Nepal is known as the land of Himalayas. With 8 highest mountain peaks of the world, Nepal is the place for trekking adventures, mind boggling hill top views and rich cultural heritage. To enjoy the best of all experiences, I started my journey with Kathmandu followed by Pokhara and finally Mt Everest Base Camp.
Kathmandu
Capital city of Nepal boasts of UNESCO heritage sites, hill views and amazing rooftop bars. Top things to do in Kathmandu are:
visit Valley's Ancient Durbar Squares
Patan Durbar Square The classic Newari marvel, Patan is full of history and beautiful temple structures. Patan was mostly constructed during the Malla period (14th – 18th centuries), leaving a Royal Palace, and assorted Hindu and Buddhist temples and idols surrounded by public squares.
We hired a local tour guide to take us around the square. Some of our recommended sites to visit include:
Patan Museum

| Housed in the former royal palace, the museum exhibits objects and treasures from Nepal's rich cultural history, including bronze and copper casts, and traditional crafts

Krishna Mandir

| The most impressive temple in all the Durbar squares, and Patan's most important, Krishna Mandir houses shrine to Lord Krishna, with shrines to Radha and Rukmini on either side

Mul Chowk

| Central courtyard of the Palace and the most beautiful of the three main chowks in the complex
Estimate time to explore: 3 Hrs
Location On Maps
Bhaktapur Durbar Square Known as the cultural cradle of Nepal, Bhaktapur is a land shrouded in divinity and devotion. Founded in ninth century, Bhaktapur ruled the Kathmandu Valley from 1200 – 1482, when the king, Yaksha Malla, devided the valley into three kingdoms – Bhaktapur, Basantipur (Kathmandu), and Patan. Quarrelling and oneupmanship led to a period of growth in culture, construction, artistry, and architecture from 1400 – 1800's, leading to the stunning set of structures found today.
The UNESCO World Heritage listed city is known for it's artistry and crafts; walking the streets you'll notice pottery makers, craftsmen, painters and carpenters doing their thing . Many tour guides are available at the entrance who can take you around. Points of interest include:
Main Square | The square is large, and houses the 55 window Palace, Golden Gate, Pashupatinath temple/Pagoda, the Royal bath, Chyasalin Mandip, Siddhi Lakshi temple, Vatsala temple (currently being restored)

Nyatapola temple | The tallest pagoda ever built in Nepal, this five storey temple based on the five basic elements

Dattatreya Square | Located in the older, east end, Dattatreya Square is our favourite square in Bhaktapur. Flanked by Dattatreya temple and an array of traditional Newari buildings, it's a quieter and more comfortable here, with far less tourists making it to this part of Bhaktapur

Pottery Square

| In the south of the city there are a number of old men who go make pottery
A visit here takes around 40 minutes from Kathmandu.
Estimate time to explore: 2 Hrs
Location On Maps 
Kathmandu Durbar Square 10 minute walk from the tourist hub of Thamel.
The UNESCO World Heritage listed Kathmandu Durbar Square is a stunning series of former beautiful temples and shrines, both Hindu and Buddhist, former royal palaces, courtyards, statues and ponds. The most impressive parts of the square are indeed the pagodas, which feature traditional Newari wooden carvings, some of which date back to the 16th century. Places of interest include:
Jagannath Temple | The oldest and most beautiful structure in the complex, and most famous for its erotic carvings. Dates back to 1563

Hanuman Dhoka | The former Royal Palace! You can walk into the courtyard, and see the Hanuman statue at the main entrance

Kumari Ghar | Home of the Kumari, a girl selected to be the town's living goddess, and symbol of Devi, Hinduism's concept of female spiritual energy. It's unlikely you'll see the Kumari (if you do, you're very lucky!), but do check out the small courtyard, with beautiful carved wooden balconies and windows

Kal Bhairav | A colourful stone image of Bhairav, representing the deity Shiva in his destructive manifestation. Great for watching locals performing religious practices
Estimate time to explore: 2.5 Hrs
Location On Maps 
explore TEMPLES OF KATHMANDU
Pashupatinath Temple  While Nepal is constantly abuzz with the intoxicating chaos and bustle of human life, the sacred temple is a sobering reminder that all life eventually comes to an end.
On the banks of the Bagmati river, Pashupatinath has existed since 400 A.D and its main temple is considered a masterpiece in Hindu architecture.For westerners, you'll have to view from outside as the temple is for Hindu devotees only. The main attraction here is the shining Shivalinga and huge golden statue of Shiva's Bull, Nandi. It's also home to some pretty colorful artwork.
As night falls gently over the Pashupatinath complex, different hum of activity starts to rise; people line the far bank of the river, and an elaborate offering of music, chanting, incense, lights and camphor to Lord Shiva begins. I recommend hanging around and watching the Aarti ceremony which commences each evening at 6:30 pm.
Estimate time to explore: 3 Hrs
Location On Maps 
Swayambhunath Temple  The best time to visit is early evening when local devotees circumnavigate the stupa, spinning prayer wheels as they go . This lofty hilltop also provides the best vistas for a sunset snap. There are close to 365 stairs and a heap of monkeys to navigate before you summit, but the views at the top are worth it.
Estimate time to explore: 3 Hrs
Location On Maps 
visit Other recommended places
Boudhanath Stupa  Festooned with Buddhist prayer flags, the whitewashed dome and all-seeing eye of Buddha is already impressive when viewed at ground level – and when viewed from above, the complex transforms into the shape of a Mandala and a tribute to Buddha's path to Enlightenment.
The best time to visit Boudhanath is during the late afternoon when the place has a more authentic feel. Locals go about their daily ritual and the surrounding area is less busy, and the golden glow of the afternoon sun envelopes the stupa
Opening hours | 9:00am – 17:00pm every day
Estimate time to explore: 1 Hr
Location On Maps 
Garden of Dreams In this beautiful neo-classical garden you'll find pavilions, verandahs, fountains and a relaxing amphitheatre where you can chill out on one of the pillows provided. There is a Kaiser Cafe to enjoy western delicacies!
5min walk from Thamel
Estimate time to explore: 1.5 Hrs
Location On Maps 
Archery at The Best Archery in Nepal If you are looking to try some new sport, try "The Best Archery" which has introduced indoor archery arena to attract people who have keen interest in the archery. The trainers are very patient and help you out all the way along. Other details are as follows:
Location:

 Jhamsikhel, Lalitpur(Opposite of Khetan Niwas)

Services:

Archery range (9m and 18m) with equipment.
Discovery, basic and advance courses available from national archers.

Opening Days and Time:

 Sun-Sat (7am to 9pm)

Course Structure and Fees

:
| Course Title/ Instrument | Time Period | Cost |
| --- | --- | --- |
| Discovery Course with Equipment | 30 Minutes | Rs. 500 |
| Archery With Wooden Bow | 1 hour | Rs. 800 |
| | 30 Minutes | Rs. 400 |
| Archery With Aluminium Bow | 1 hour | Rs.1000 |
| | 30 Minutes | Rs. 500 |
| Archery Without Equipment | 1 hour | Rs 500 |
| | 30 Minutes | Rs 300 |
| 10 Arrows (Minimum) | – | Rs 200 |
*Arrows are free with Archery and Discovery Course.
shopping in kathmandu
Shops mostly open by 10:00 AM and close by 8:00 PM.
New Road in Thamel , Durbar Marg, Indra Chowk and Asan Bazaar are some of the famous street markets. Best things to buy include:
Pashminas | A shawl or scarf made from fine pashmina (the underhair of a mountain goat) is a popular buy. The cost of a shawl depends on the percentage of pashmina in the mix and from which part of the goat's body the hair originated, starting from the cheapest back wool and rising through the belly and chest to neck hair, which is about five times more expensive than back hair. Shawls range from around US$50 to US$275 for a top-end ring shawl (named because they are fine enough to be pulled through a finger ring; also known as a water shawl).
Tea | Super fine "tipi golden flower orange pekoe" tea, Ilam, Ontu, Kanyan and Mai Valley teas are the best Nepali teas, from the east of the country near Darjeeling. Price ranges from Rs 600 (in Ilam) to Rs 3000 (in Thamel) per kg for good Ilam tea.
Spice, Incense, Honey | Momo mixes to chai spices, or freshly ground masalas
Embroidery |  Adding logos and Tibetan symbols to jackets, hats and T-shirts. Trekkers can commission badges and T-shirts commemorating their successful trek or even get a business logo made
Thangkas | Unique paintings found in Nepal. They normally depict Buddhist and Hindu deities, scenes and mandalas and are made on cotton or silk fabrics. Around NPR 1500 for small ones
Singing Bowls | A unique musical instrument , these are actually metallic bowls and comes with a small wooden stick which is rubbed on the bowls' edge to generate sound. The sound is even believed to have healing qualities! Costs around 300NPR
Rice Paper | Made from rice husk, it's a kind of decorative paper

Khurkhuri | A traditional Gorkha knife with twin blades. Costs around 1000 NPR
Prayer flags | The best place to buy is the street in front of the Kathesimbhu Stupa south of Thamel.
check out top RESTAURANTS
Pubs/Rooftop Bars:

  OR2K, Lord of the Drinks

Newari Style:

Nepali Chulo, The Toran, Kesari Bar,

Cafes:

Roadhouse Cafe, 1905 Restaurant
Food Delicacies to Try: Sel Roti, Momos,  Everest Beer, Yomari, Juju Bhau
Best Places to Stay
Luxurious Stays:

Gokarna Forrest Resort, Hyatt Regency, Dwarika's Hotel

Mid-Low Budget Stays:

Rani Kunj Airbnb, Artelier Homes, Maison De Kathmandu B&B
Places to explore near kathmandu

Nagarkot |

[30Kms from Kathmandu, 14Kms from Bhaktapur]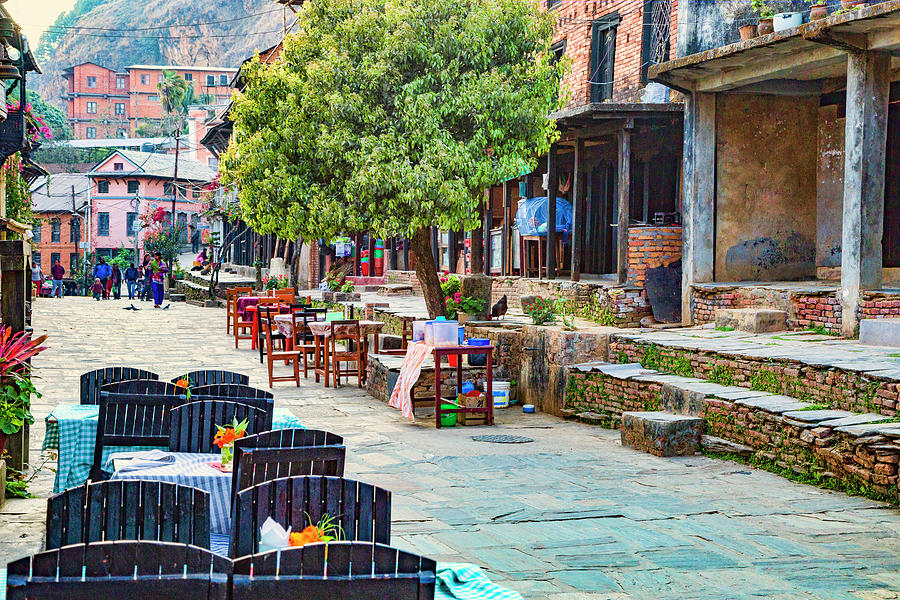 Chandragiri Hills- Chitlang
Notes
People are helpful in general.
Some shrines and monuments only allow Hindus to enter. Please be careful while entering the monuments/temples.
Roads are not in good condition and mostly crowded during day time. So to travel from one place to another keep in account some extra time.
Streets are very dusty and polluted. Don't forget to carry a face mask while travelling.
Buses,Taxi/Cabs are the local means of transport. Do negotiate with taxi/cab drivers to price according to metered values.
---
Controversial Story of the Royal family of Nepal 
Death, Love and Conspiracy: The Nepalese Royal Massacre of 2001
On 1 June 2001, Crown Prince Dipendra opened fire at a house on the grounds of the Narayanhity Royal Palace, the residence of the Nepalese monarchy, where a party was being held. He shot and killed his father, King Birendra, his mother, Queen Aishwarya, and seven other members of the royal family — including his younger brother and sister— before shooting himself in the head. Due to his wiping out of most of the line of succession, he was crowned king while in a comatose state from the head wound.
His motive for the murders is unknown, but there are various theories. Dipendra desired to marry Devyani Rana, whom he had met in the United Kingdom. Some allege that, due to her mother's family being lower-class royals of India and her father's political alliances, Dipendra's parents objected. In fact, Devyani Rana's Gwalior family is one of the wealthiest former royal families of India, and allegedly far wealthier than the Shahs of Nepal. The prospective bride's mother, a Nepali by birth, warned her daughter that marrying the Nepali crown prince might mean a drop in her standard of living. Dipendra's prospective bride descended, through her mother, from a competing sub-branch of the Nepali Rana clan (the Juddha Shamsher line) to that of Queen Aishwarya.
Much controversy surrounds the circumstances of the massacre, and even today, with the monarchy abolished, many questions remain within Nepal about its cause. Sources of the yet unanswered questions include details such as the apparent lack of security at the event; the absence from the party of Prince Gyanendra, Dipendra's uncle who succeeded him; the fact that, despite being right-handed, Dipendra's self-inflicted head-wound was located at his left temple, and that two bullets were found to be lodged in the temple instead of one; and finally that the subsequent investigation lasted for only two weeks and did not involve any major forensic analysis.
Continue to next article for Pokhara and trekking highlights  ≥